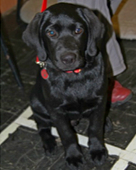 This course aims to give your dog the best start, the sooner you start your basic puppy training the better; but its never to late to learn. Puppies are like sponges and soak up information so it is essential to introduce them to training in the correct manner.
Using positive rewards and fun and interesting methods our training will help your dog become a calm happy confident individual.
Training will help your dog become a calm happy confident individual. Our training uses positive rewards to get the best out of your dog using modern proven methods which are both fun and interesting.
We will also show you how to stop unwanted behaviours such as jumping up, play biting & barking before they turn into bad habits.
If you would like to attend:
Please see our
How To Join
page and phone or email to see if there is a course with space starting when it suits you - then print off an enrolment form and send that to us with your course payment - we will contact you with confirmation upon receipt.
For young puppies it is advised that they have had their first inoculation before they attend, but please confirm with your vet.
Course Summary
7 week course that starts with a talk/demonstration in week 1
(please do not bring your dog on this first evening, thank-you)
Socialisation
Coming when called
Walking on a loose lead
Sit, down & stand
Play
Leave it
Food manners
Stays
And much, much more......